If you haven't already seen my little announcement, I'm delighted to say that I'm pregnant. I'm currently 19 weeks so I'm almost half way and loving pregnancy so far. Pregnancy is a beautiful thing and I'm in awe of what the female body can do.  It's very strange but cool to think of what's going on inside me without even having to think about it.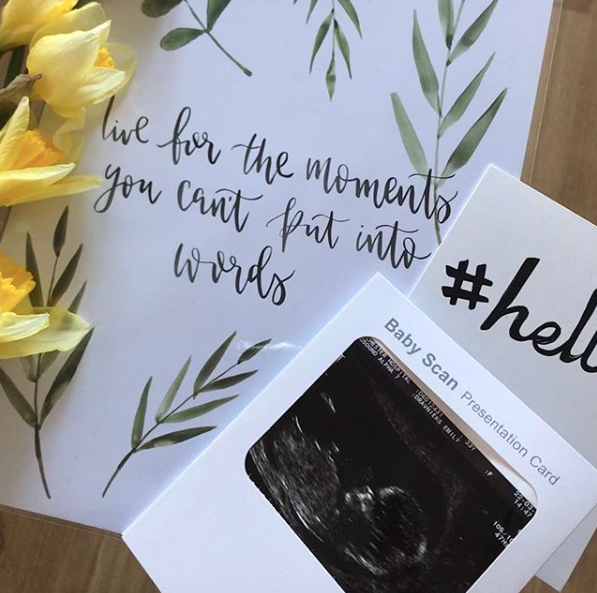 The first trimester was interesting so I thought I would look back on it and few of share my thoughts.  We didn't find out that I was expecting till I was well into my seventh week. I'd started to feel faint and a little sick in the daytime at work around the same time every day which hasn't happened before so I decided to take a test. It was positive. Whoop! We literally couldn't stop smiling and I was sure that we were going to quickly give our secret away.
I got into the flow of early pregnancy quickly but then the morning sickness hit just a few days later.  Ginger, honey and having a few small snacks through out the day to try to shake the feeling of nausea soon became my friend. Little and often has become also my motto!  I had one particularly tough evening but apart from that nothing too extreme.
I started taking Pregnicare, it's actually one of the first things I did when I first found out that I was pregnant – Pregnicare is a multi-vitamin that midwives recommend to take in pregnancy. I've found that they're expensive but well worth taking. Make sure you research and talk to the midwives before you go taking any tablets though.
I started to put on a little weight, I feel like it was more bloating in my first trimester that would fluctuate greatly throughout the day. To help with this I used the hair tie trick which allows you to still wear your pre maternity wear. Just popping a hair band through the button on your jeans and then through the button hole with the zip lowered slightly really works wonders giving you an extra bit of breathing space.  If you wear a little strapy top that's quite long or a belly band, a little piece of material that goes around your waist.  It sits over your jeans to hide the zip and no one can even tell that you have the zip down. It really helps when you're in that awkward stage of bigger than you normally are but not big enough for maternity wear, a stage that I'm still currently in.
Another thing I did and really enjoyed while in my first trimester and beyond actually has been down downloaded a few apps to my phone. The ones I went for are 'What to expect' and 'Pregnancy plus', both really similar but I found they had different information, tips and hints.  I've also recently downloaded the BabyCentre app. These all relate to where you are in your pregnancy and literally what to expect, what you could experience, what is normal, what to look out for and best of all information on what's happening with your baby. It's size, what's forming etc. It's all really useful and I found that they have become my friend especially when I couldn't tell anyone. We'd read these little tip bits of information in the car on the way to work and they really helped us connect as a couple but also with the baby. 'What to expect' is completely free but 'Pregnancy Plus' becomes £3.99 when you get to your second trimester. It's a good price and I've carried on using the app well into my pregnancy so far. The BabyCentre App is also free and I'd highly recommend all three.
As we'd found out in our seventh week, the first trimester seemed to come and go quite fast. We were so excited to start telling people and once we had our 12 week scan we did just that. It was so exciting but a little over whelming telling everyone especially as it was so unexpected. Both our families had had birthdays recently so we hid the scan picture in an envelope and gave the others birthday and belated mothers day presents over as well as our little surprise.  It was so unexpected that it took a while for the mothers/parents to get what our little picture was but once the secret was out, there was lots of tears hugs and smiles.
I feel like the pressures really on now and I hope I do everything right. It's an exciting time, I'm growing a little baby Dravnieks and we can't wait to meet them!