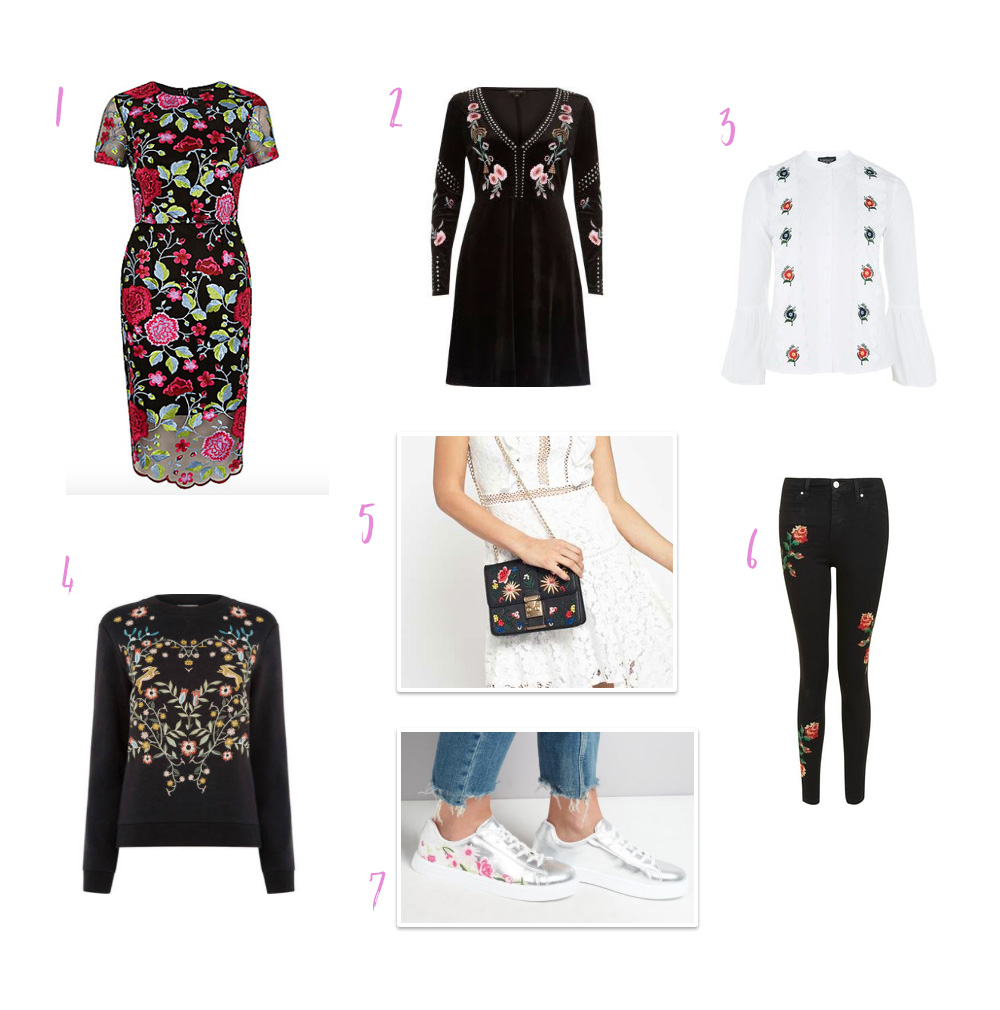 Embroidery is a huge trend this year and slowly but surely it's has been sweeping into every look. It's rapidly becoming one of my favourite trends as it's such an easy one to master. I thought that I would gather some of my favourite items to show you.
1. This fully embroidered dress from River Island is really pretty. It has so much intricate detail yet it still looks amazing and it's so flattering to wear too. It would be perfect for a date night or maybe even a wedding too.
2. Dresses are some of my favourite items to wear at the moment mainly because they go with everything especially a fab pair of heeled ankle boots and a cool bag. This black stud and embroidered dress is subtle yet stylish. It'll be perfect for the Spring season with a denim jacket or if you're feeling brave a leather jacket too.
3. I love this shirt from Topshop. It's subtle being white but it packs a punch with two trends, sales with the feminine bell sleeves and scalloped detailing down the front. The embroidery is so pretty, this top will go with everything. Come on, what are you waiting for? Buy this one and work those Spring styles. It's gorgeous.
4. I really love this slouchy embroidered sweatshirt from Warehouse. It's casual but cool and it will create the most amazing up to date look teamed with a mini or a midi skirt and heels.
5. There a lot of embroidered bags out there at the moment but this cute black one from Miss Selfridge is the bees knees. It will go with so many outfits and will be the star of the show too.
6. The jean look with embroidery is very much a classic 60's look and it's coming back larger than life. I love the lovely designs especially these embroidered Jamie Jeans from Topshop and although you'd have to be careful what you teamed it with, you'd be right on trend and everyone will want these jeans too.
7. I love a simple casual look updated with embroidery as it brings the look right up to date. My favourites are these silver trainers with bright pink embroidery from New Look. They've very understated yet so pretty!
Are you loving the embroidered look this season too? Let me know in the comments below.
Happy Shopping!
Positively, the most vital element that is considered while buying drugs from the Web is to make a right choice. To order remedies online from a respectable web-site is safe. Let's talk about numerous possibilities. If you're concerned about erectile health problem, you have to learn about "levitra 10mg" and "levitra cost per pill". Did somebody tell you about "cheapest generic levitra"? Don't forget, consider "undefined". Young men with sexual dysfunctions need occupational help. The treatment plan depends greatly on the precise cause of the sexual problem. Along with their valuable effects, most medicaments, even so, can cause unwanted aftereffects although commonly not everyone experiences them. Online sex physician services are the only safe version if you are going to buy remedies, like Viagra, online.