<![CDATA[ Out There 2011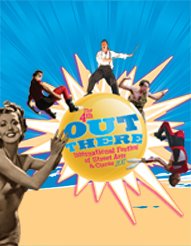 'Out There 2011' saw Great Yarmouth descend into a weekend full of fun, circus, dance, street arts, aliens, giants, crazy inventions, pirates and most importantly rubber bands. Seachange Arts have worked hard on the festival all year and you can certainly tell with this years line up. The 60,000 that turned up at the festival were defiantly happy that Seachange brought some of the best acts from Europe and further to our seaside town and gave it a much needed culture boost. Not even the hour of heavy rain dampened any spirits. Saturday saw the amazing man of little words and his simple but effective folding rule. Gregor Wollney had been raved about for months and he took the curious audiences to his intriguing fictional world.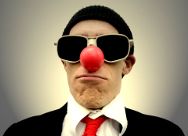 Magmanus, an award winning , acrobatic and juggling loving duo improvised their way through the comedy set, with a rare opportunity to see the teeterboard expertise at work. With 80's music pumping in the background they sent a shock wave of blushes including my own, around the audience members as they striped down to tiny g strings to finish their show.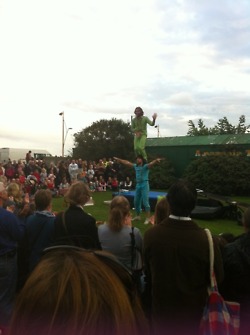 Next on the bill of the day was of the beautiful contemporary site specific work of Maresa Von Stockert. SEASAW, saw  Tilted Productions take the audience on a zig zag trail under, around and beside the Britannia Pier. Mimicing the legends of the sea and much loved wildlife that fill our town and then showing how the elements can be used which in turn provokes thoughts on pollution.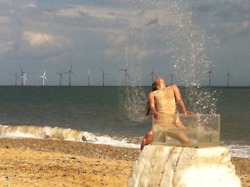 Sunday saw Shay Hooray, who had been MC-ing the weekends festivaties in St George's park perform. From showing his exceptional talent on a pogo stick, while simultanously struggling out of a straight jacket to an example of how 'The amazing-rubber band man' completed his world record attempt at having the most rubber-bands on his face. Nobody wanted to miss it and the performance almost cirtainly drew one of the biggest audiences of the weekend.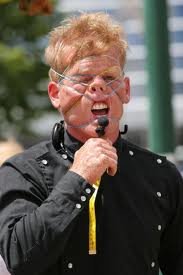 The 'Out There Festival 2011' was closed by Mario, Queen of the Circus. While hundreds of people crowded around Mario, you can feel the anticipation of seeing this world known act. The Queen obsessed Mario soon had everyone laughing and singing along to the familiar tunes, enjoying the unicycling, banana spitting, juggling filled act. The highlight of the weekend was singing and swaying along to 'We are the Champions'. Enough to shed a tear. Unforgetable!