<![CDATA[Leona Lewis is the new ambassador for The Body Shop with an new cruelty free limited Edition collection, and she held the launch at Westfield London. There was a VIP competition to the launch and meet and greet the lady herself. On Wednesday I was emailed to say that I won 1 of 10 places to meet Leona, so I toddled on down to Shepherd's Bush. I thought I would blog about the experience.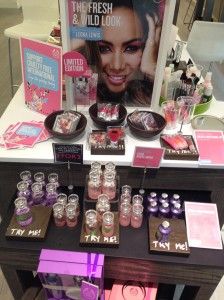 The Body Shop had a great stand full of the Cruelty Free Limited Edition products and they are all pretty special. There are four main products that make up Leona's collection. A pretty blush brush, four luscious lip glosses, Two gorgeous blushes, and two beautiful scents.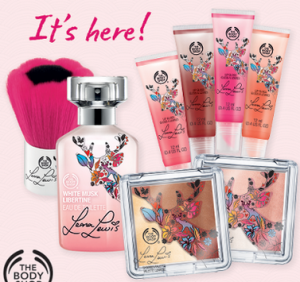 In a little closer detail, the pink and black petal kabuki brush is gorgeous to use and is priced at £14. The blusher and bronzer is delightfully named Oh Dear, it's cute and can be used individually. The four individual lip glosses are lovely colours, there is a light pink which is a light bright and has a lovely texture, there is a darker brown which has a lovely pigment to it, the deep pink is very pink, and is a lovely colour worn by Leona in the campaign pictures and tastefully bright and lastly is the lovely pale orange rust colour. All four are priced at £7 each . There is also two beautiful fragrances, a white musk Eau De Parfum for £13 and an Eau de Toilette £10 . Both smell amazing. Get down to the nearest Body Shop to smell them. In the speech we listened to at the launch, Leona informed us that white musk use to be extracted from the deer, and The Body Shop was one of the first companies to make a synthetic man made musk, and so designing the logo with The Body Shop was a celebration of the cruelty free fair trade products.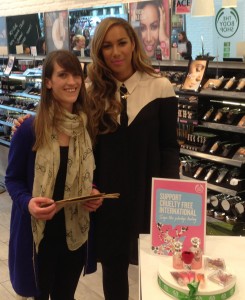 As you can see Leona is gorgeous, and was truly lovely. She knew her products well and I think she will be a great advocate.She is passionate about make up,which is was certainly obvious with her enviable flawless make up she had when I met her. She spoke about how it was a dream to have an exclusive collection at a shop since she has regularly shopped at The Body Shop from being a small girl.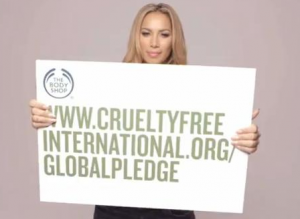 Mostly Leona spoke about her passion for Animal Rights. The EU ban was talked about lots and it is something that is backed fully by Leona. The Body Shop have been campaigning for a considerable amount of time and this ban finally came into effect in the EU in the last month. Great work Body Shop! 'The ban prevents the import and sales of animal tested products and ingredients in the EU' (http://www.thebodyshop.co.uk)  and The Body Shop is now campaigning to make this ban global. Go to the link that Leona has in this picture to sign on the doted line too.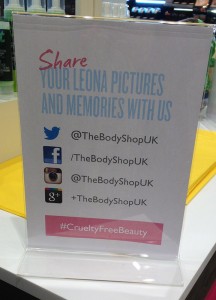 Thank you to The Body Shop for inviting me down to the launch and I hope you all go and have gander at the new products. Happy Shopping!