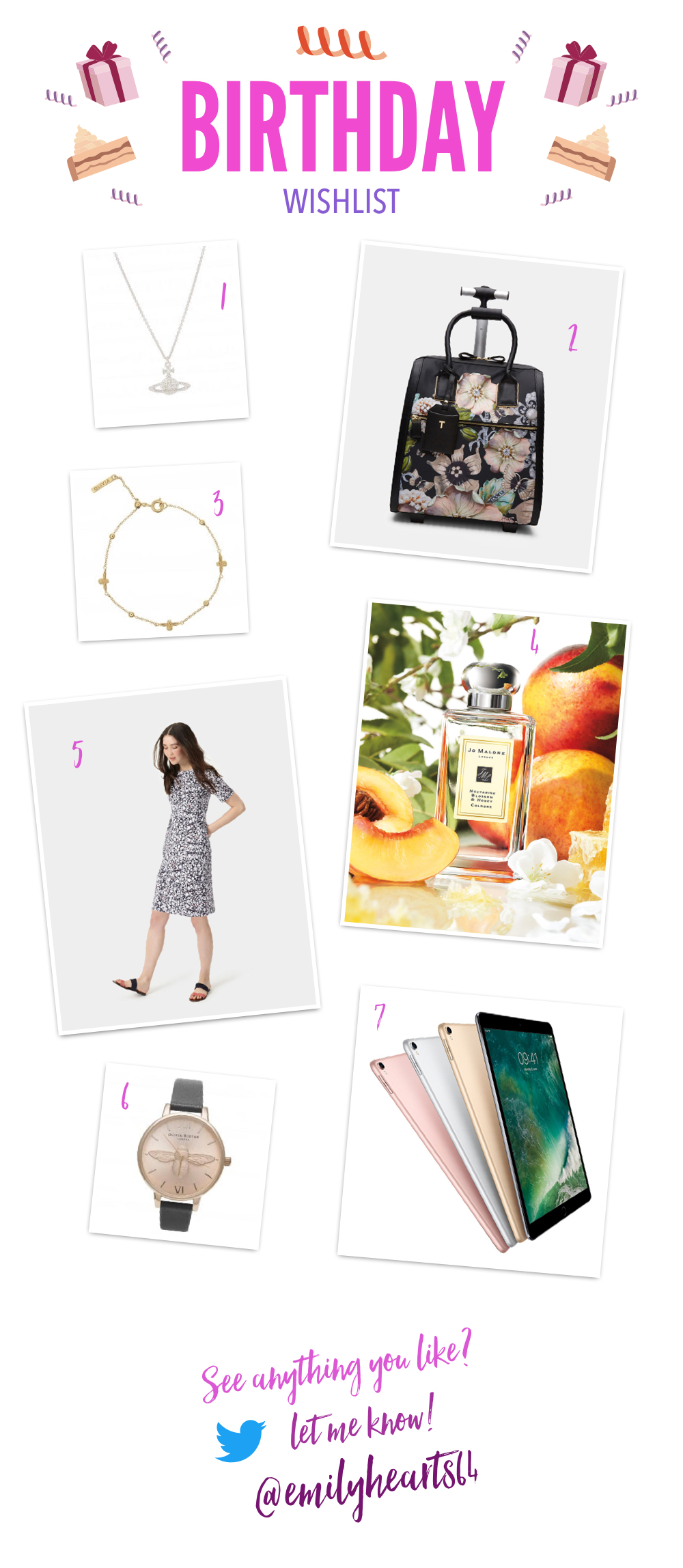 My birthday is coming up really soon and there are so many things that I love at the moment. I thought I would pop together some items/ ideas that I would love to receive for my birthday.
1. First up is this gorgeous Vivienne Westwood necklace. I've had the orb earrings for a while and I constantly wear them so I'd love to have the necklace too. They just go with everything and really make an outfit look more stylish.
2. I've been travelling quite a bit recently, my little suitcase that I've had since university has seen better days. I love the Ted Baker suitcases, they're always so pretty and this black one is super cute. I also love the some of the suitcases from River Island too.
3. I'm a huge fan of bees, I especially love Alex Monroe bee necklace my husband gave me for my 30th birthday so it's super special to me. This Olivia Burton bee bracelet is a really great match for the necklace. Anything bee related is a winner for me.
4. I'm a big fan of Jo Malone fragrances and the perfume that I am loving at the moment is Nectarine Blossom and Honey. It's such a summery fragrance and is supposed to remind you of Covent Garden early in the morning. Covent Garden is one of my favourite places to go in London so this is perfect.
5. One of my favourite shops at the moment is Joules as they have so many amazing designs and prints. It's right up my street especially this gorgeous Julia Pleated Jersey dress. The fabric is super soft, and will definitely keep me cool in the warmer English weather.
6. As I've said before anything with a bee on is a winner in my book and I've loved these intricate Olivia Burton Bee watches since they originally came out. It would take pride of place on my wrist and would make every outfit look amazing.
7. My current computer is quite old and some of the buttons occasionally don't work so I'm well in need of a new computer. My ideal would be an iPad/ iPad pro or a Mac Book Pro as they're so easy to use.
Are you loving any of these pieces. Tweet me and let me know.
Happy shopping!