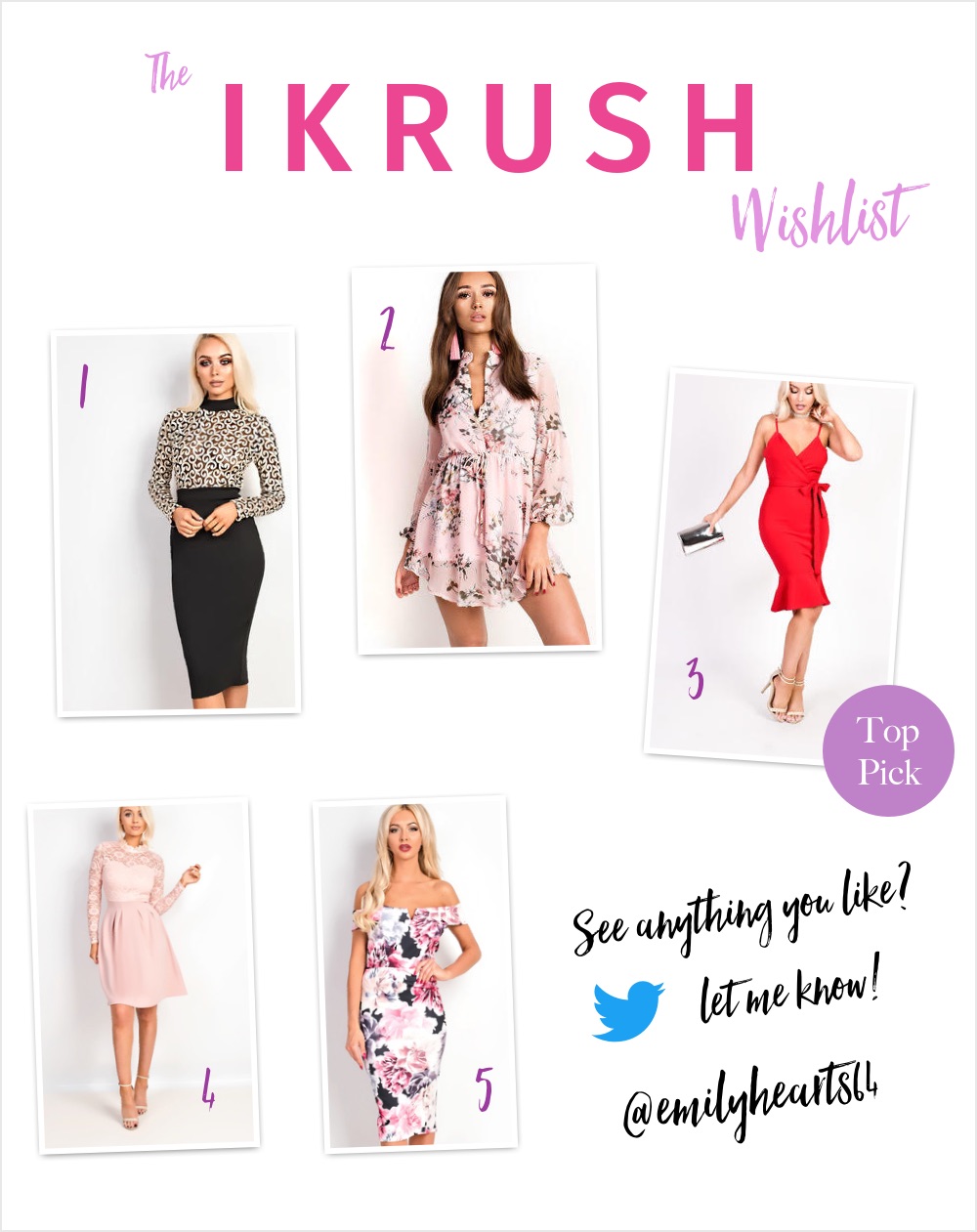 The Spring weather is finally looking as though it's on it's way. The flowers are out in full bloom, there are blankets of daffodils over gardens and grassy areas everywhere and the sun although a little intermitent, is defiantly sneaking through the clouds and light rain. It's my most favourite time of the year. I've been dreaming about floral patterns and pastel coloured clothes and I was asked by Ikrush to pick out a few of my favourite items I think you'll agree there's a theme in this wishlist.
1. This Aliana Mesh black body con is a corker of a dress. It would be perfect for an event, whether a sassy hen night, a wedding, or a cocktail party it'll be a show stopper.
2. Shirt dresses are big for Spring. They're so easy to wear with a little denim jacket and trainers for a colder day or a pair of heels on a hotter day. I love the floral print as it's so pretty, and the Evie Floral Shirt dress is perfect. Such floaty material and so feminine.
3. My top pick of the Wish list is this Lolita Bodycon Frill Midi Dress. It's seriously beautiful. The colour is bright, the style is super cute. The tie around the waist and the frill on the skirt are really pretty editions and makes it the perfect party dress. Add a black leather jacket and heels for a cool look, or a nude shoe to be fun yet classic .
4. The Anyelle Lace Skater dress is really pretty. The long sleeve lace is perfect for the cooler weather that we've been getting. It's really stylish but delightfully classic too. Team the dress with a light pink or nude pointed heel. Perfect!
5. Lastly I've chosen the Daijah Bardot Floral Midi dress. The pink and grey floral design is what caught my eye because it's really pretty. I also love that it's also bardot style. I love this dress with barely there heels, just with a few straps.
Let me know if you're loving these Ikrush party dresses as much as me or if you like any other Spring style dresses from Ikrush in the comments below or over on Twitter.
Happy Shopping!

*in collaboration with the lovely people over at Ikrush.