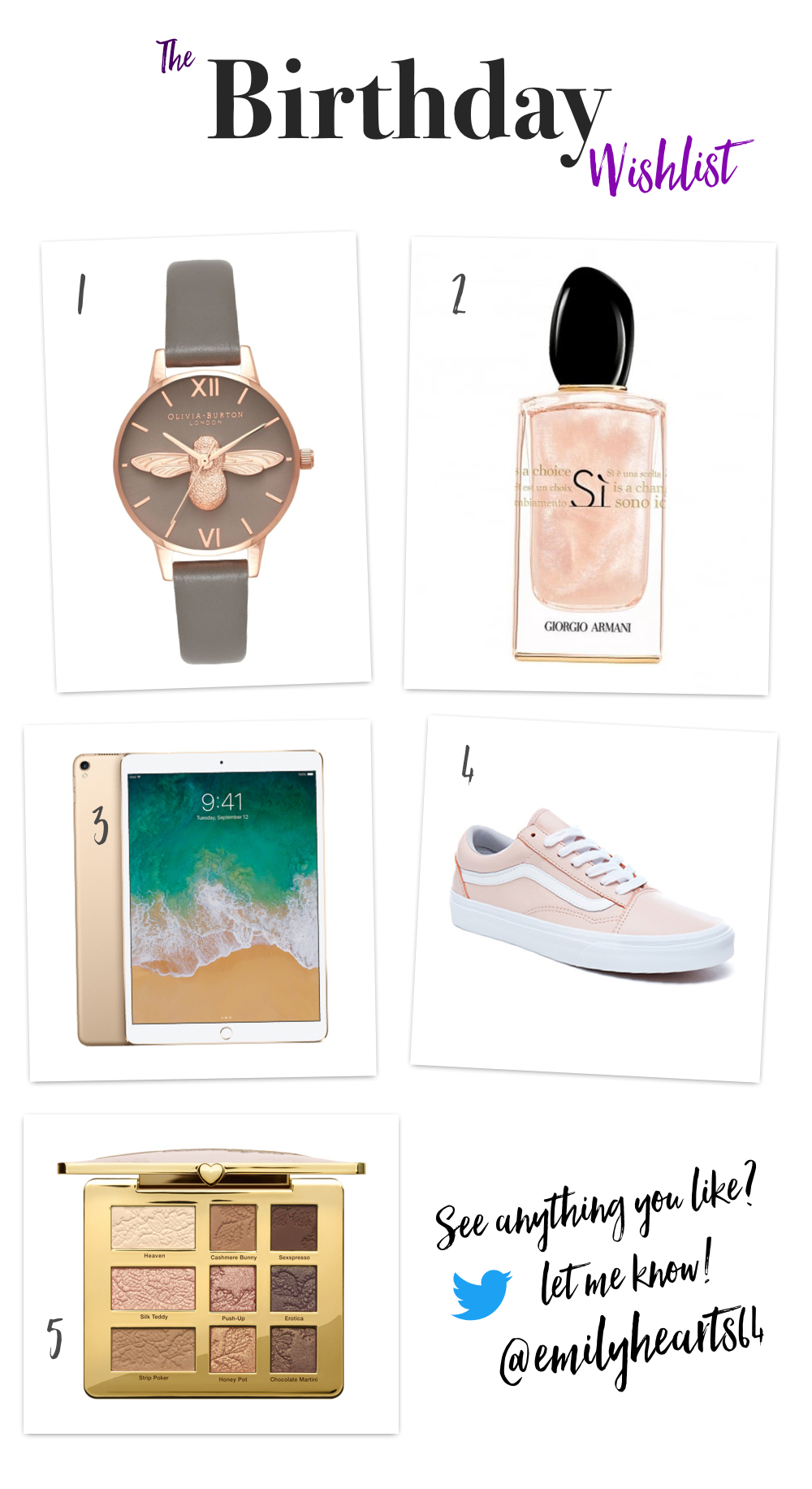 My birthday is rapidly approaching and one of my favourite posts to write every year is my birthday wish list with some of the products that I've been lusting over and why. This years products have a little bit of a theme as they're unintentionally very pink/nude.
1.First up is this super cute Olivia Burton ladies Midi 3D Bee Grey Dial & Rose Gold Watch. If you've been following me for a while you'll know I love a bee on anything and everything so this watch ticks all of he boxes for me. I love all of the Olivia Burton watches, and colours but I've chosen this darker grey as I feel it would be a little more durable. It would be an amazing accent for any outfit too.
2. The Armani Si Nacre Edition perfume is super pretty. It's a little on the pricey side but it's limited edition. It has a glitter that runs through it which comes out when sprayed and leaves a subtle sparkle on your clothes or body.  The perfume smells amazing with top notes of apricot that lingers so beautifully. What's not to love.
3. Next up is an Apple iPad. This might seem like an extravagant thing to go on my wish list but I watch and listen to quite a lot of films, music and programs and I thought that maybe an iPad might be a good way of playing these. It's also so much more portable than my main computer and much lighter too which means no arm pain from dragging around my heavy laptop everywhere. Bonus!
4. Pink Vans are trainers that I've been wanting to get my hands on for a while. I love the vintage look and these Vans scream vintage with that stripe and the style but they're still ultra cool. They'll also go with loads of outfits, from summer dresses to jeans and a leather jacket.
5. One of my favourite make up products that I would love to own is the Too Faced Natural Matte palette. It's so pretty, has great product pay off and is really natural too. It's also very photogenic.
Are you loving any of the products in my birthday wish list, maybe you have one or two of them and you want to give me your reviews or maybe you're planning on getting a few of them too? Let me know in the comments below.
Happy Shopping!