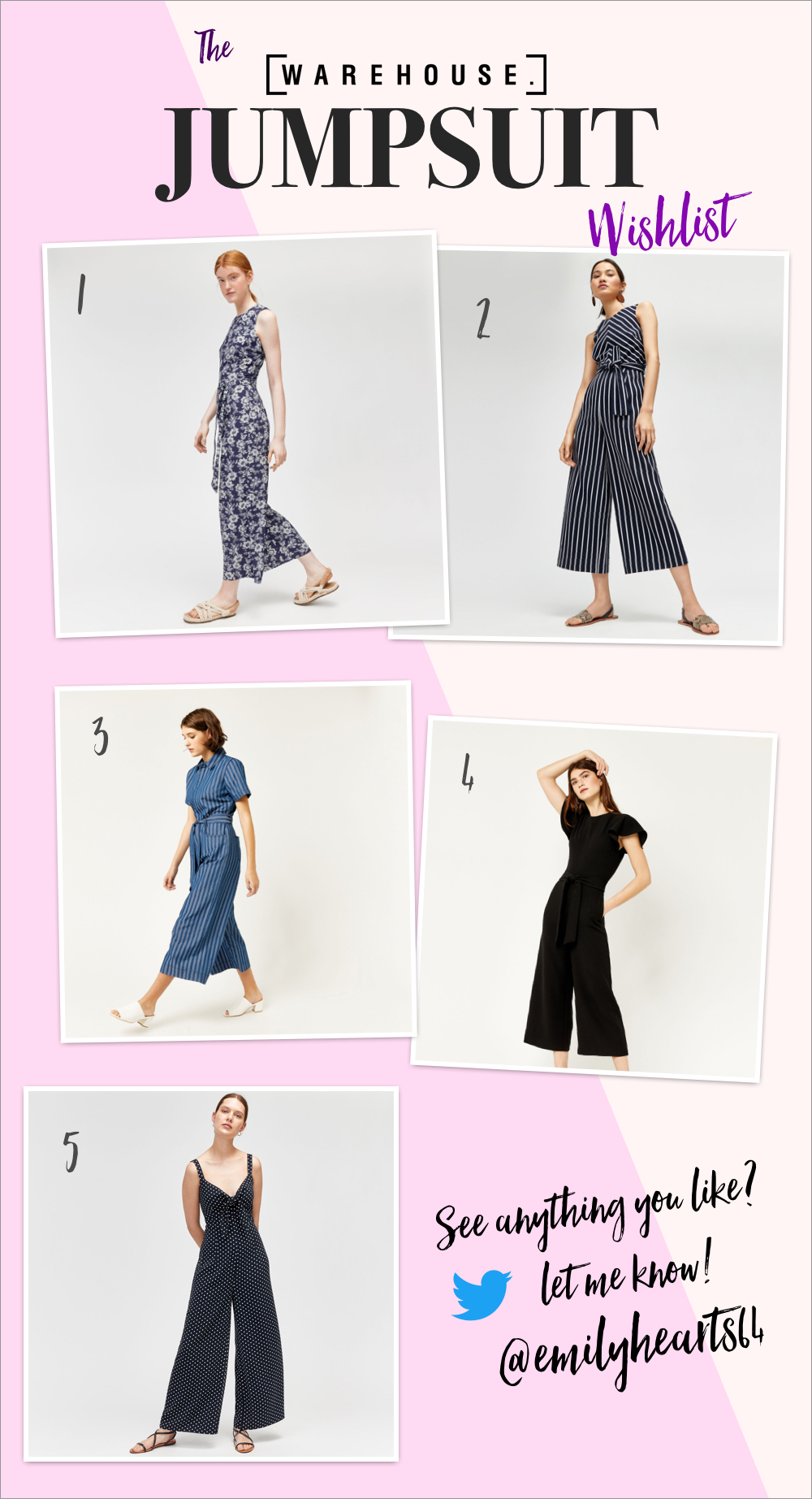 The jumpsuit is an item of clothing that I don't wear very much but it's one that looks great if you wear it right. If you find a good one, it's an outfit that similar to a dress in that it's all in one with minimal effort. Just add some super special accessories for a sultry evening look or a pair of trainers and a denim jacket for more a effortless daytime one and away you go. With this in mind, I thought I would gather some of my favourite jumpsuits that I've loved wearing or would love to own. I always gravitate towards Warehouse and Oasis for this kind of item so I thought I would gather together some of my favourite Warehouse jumpsuits. They have a super cool collection and I love all of their current styles.
1. The Willow Jumpsuit
First up is this gorgeous blue and white chinese floral print one. The Willow jumpsuit is stylish with the floral pattern that accentuates in all the right areas. The little tie around the middle and the crop trousers really bring an added sophistication to a jumpsuit. Ultimately this looks great with a jacket and heels or a cross body bag and brown sandals.
2. Stripe Jumpsuit
Stripes are huge this summer, and this Stripe Jumpsuit elongates the body and legs with the different directions. It also looks great. This jumpsuit is office ready but can equally be your day to night go to.
3. Stripe Jumpsuit
This next stripe jumpsuit is more subtle. The material is a mid wash denim, has pockets and the length is cropped too. Not forgetting that there's a collar that can be popped. Too cliché? It looks effortlessly cool.
4.Jacquard Jumpsuit
You can't go wrong with a little black jumpsuit and this Jacquard one from Warehouse is ultra special. There's a subtle pattern on it and a soft silhouette with the frills at the top that makes this super special and perfect for an evening out. It also comes in a red and navy. Pair it with barely there heels and gold earrings and party the evening away.
5. Polka Dot Jumpsuit
Last up is this Polka Dot Jumpsuit and it's a favourite. Spots are another big print this summer and I love that the legs are longer in length. This jumpsuit is perfect for a day out sight seeing with the low cut vest top style of this one teamed with flats and a huge sun hat. Perfect!
What Jumpsuits are you loving and what will you be nipping down to the shop to buy later? Let me know in the comments below or over on Twitter.
Happy Shopping!
*This was a collaborative post but all writing/opinions are my own