My little lady is finally here and what an amazing arrival she had. She's actually over 4 months old now, where does the time go! The last few months have been amazing. I've been getting to grips with becoming a new mum, figuring out our routine and getting through growth spurts, sleep regressions, immunisations and the like. We moved a few weeks before I had her too, so we've been trying to get our new house to a place that we feel happy too.
With this in mind I've recently put away my pregnancy clothing, but it had me reflecting on the clothes that I couldn't live without while I was pregnant.  I kept maternity wear to a minimum mainly because I luckily found I could wear a lot of my non-maternity wardrobe right up until the later months of pregnancy. I found styles that I liked such as A line silhouettes, and stuck to them. The crazy hot summer last year and my little one actually going 16 days over her due date had the cooler Autumn weather drawing in a little too. I found myself wearing and layering up the summer dresses I wore in the hotter months with cardigans and jumpers. Towards the end of your pregnancy is such an awkward time as your body is growing bigger, but you know that your body is going to change again when the baby is here. I found that I wanted to buy and wear base products that I could team with other things that I might also be able to wear  when she arrived too.  Luckily I was gifted a few favourite dresses from Isabella Oliver and spent most of my time in these so I thought that I would share what they were and how I styled them.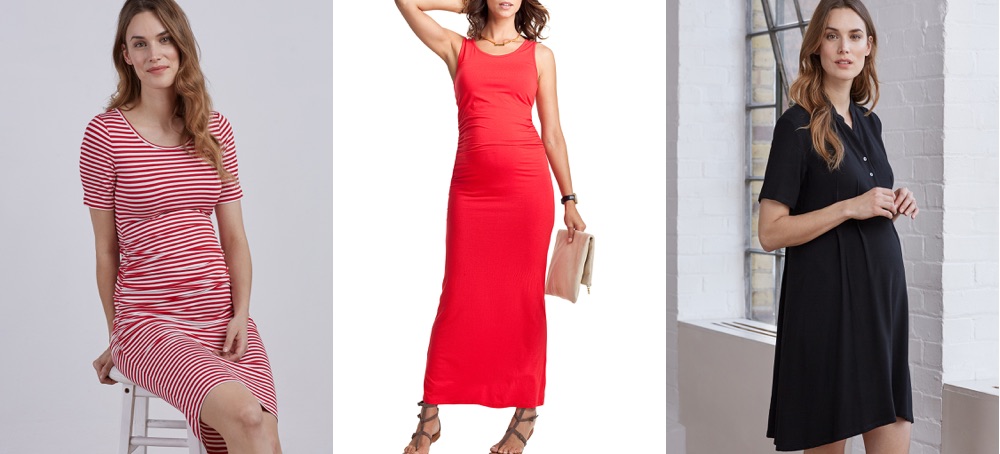 First up was this gorgeous dress – Jenna Maternity T-Shirt Dress. This comes in both blue and the red stripe. I was gifted the red stripe and I loved this style of dress towards the end of my pregnancy as it really showed my bump. I found that people commented a lot more too. It was a great dress to wear when the weather was hot but also it worked really well when the weather began to turn a little colder too.  I teamed it with just some light coloured Converse trainers.  I also teamed it with a hoody and a black leather or denim jacket along with low heels or ankle boots for an evening look. I also loved layering up my necklaces and wearing a fun pair of sunglasses too which looked great.
Another dress that I loved throughout pregnancy is this Katerina Maternity Dress. I actually have this dress in the blue and white stripe but I also love this shade of red for this dress. It's perfect for any time of the year and is great for going to day to night. The fabric is super light which made it perfect for the height of Summer too. I teamed it with flats or sandals with a super cool blazer for an evening look or some sandals and sunglasses and a cross body bag for the warmer days.
Lastly I loved the Carey Maternity Shirt Dress   I loved it so much that I had a few dresses that were this shape from various places. The shirt dress was something I lived in throughout my pregnancy and this one was great to wear as my bump grew especially as the material is really light which made it perfect again for the hotter days. The style did get a little short towards the end of my pregnancy and as my bump  got bigger so I had to be a little more carful when I needed to pick things up. I teamed this with a denim jacket, some converse or Superga trainers, an awesome pair of sunglasses for a casual look or a little jacket and and low heels for a little more of a smarter look.
What styles of dresses have you loved during your pregnancy and will you be trying out some of these dresses or styles yourself? Let me know in the comments below or over on twitter.
Happy shopping!
I was gifted with three lovely dresses from the lovely ladies at Isabella Oliver.