I love a long sleeved dresses, it's a style of dress that I gravitate towards quite a lot especially as I find that they can take you through to many different seasons. They're great in Spring when the weather is starting to get warmer as you can wear it on it's own or with a little jacket like a denim number or a leather jacket. This can then be teamed with a subtle flat shoe. When you move into Autumn you can wear them with leggings and ankle boot with a nice heavy jacket for example an aviator style. As the weather starts to get colder I find that you can really layer up the dress with a vest top underneath, leggings or tights and maybe a knee high or a over the knee boot. I always like to pop a cardigan over the top if it's really chilly too. I mean, what's not to love about this style.
As a little bonus too, I also found in my pregnancy that long sleeve dress style where great for hiding and dressing my bump so I had many in my wardrobe. Now that I'm a mummy and I'm breast feeding my little one it's still a style that I gravitate towards and it looks great too.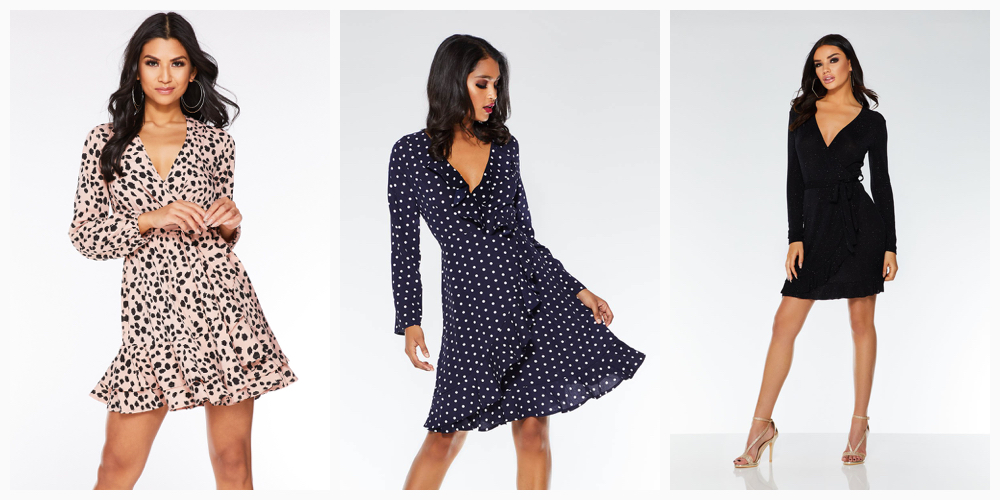 Quiz got in contact recently and asked me to choose my favourite long sleeve dresses from their site. I love lots of different stye of long sleeve dress but for this season I've decided to choose the three I most like wearing.
First up is the gorgeous Pink and Black Dalmatian print long sleeved dress. Dalmatian print is big for this season and it's a trend the high streets and designers are loving. The print can be difficult to wear but try and go for something a little more contemporary. This particular dress has a subtle take on the print that will keep it looking too Cuella Deville. It also brings in the ruffle trend around the skirt hem which is gorgeous. Team it with ankle boots or a platform shoe and a classic camel jacket. Perfect!
This long sleeve Navy and Polka Dot dress is fab for the Autumn season. It's hitting two trend points with the polka dots and the ruffles. They're done in a slightly different way as they fall down the wrap style hem. I find this style fabulous now I've become a mum for feeding and it's sophisticated yet flattering. I love wearing this with a faux leather jacket and flat ankle boots in the cooler months. I team it with a white platform trainer and denim jacket in the warmer ones.
Last but by no means least is this lovely sparkly black wrap dress. It's great for an evening out. Get your favourite heels out and team it with a black jacket to make a really special outfit. For something a little different wear with Dr Martins, and a leather jacket for a cool juxtaposition outfit that will turn heads.
Tell me, do you love wearing long sleeve dresses or will you be jumping to buy one of these gorgeous dresses too? Let me know your thoughts in the comments below or over on Twitter.
Happy Shopping!
In collaboration with the lovely people at Quiz.