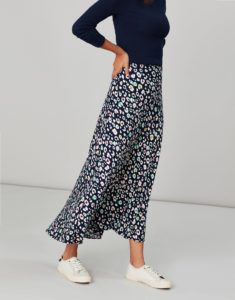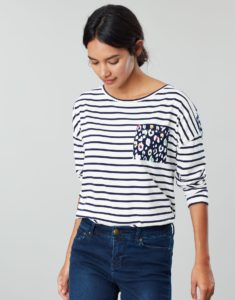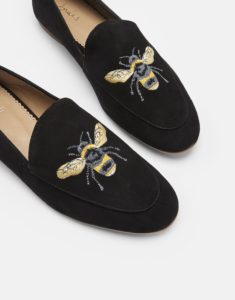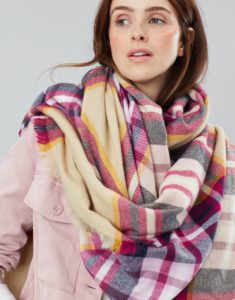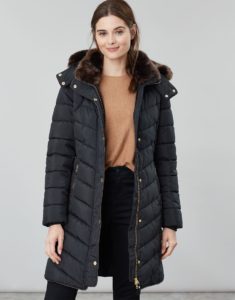 As the evenings are drawing in its clear, Autumn is fast approaching. The new season's collections are slowly being released and a brand that always surprises me is Joules. It's well known for its basics, Breton styles, winter jackets and windbreakers that keep you cosy and warm as well as those trusty T-shirt dresses. But their prints, materiel and product selection is really clever with timeless yet so on-trend, this is a brand not to be underestimated. It's also the brands 30 year anniversary and they've really stepped it up this year. The children's department is a particular favourite at this time as the products are so cool yet cute too. These products will be featured in another post soon but today I'll be focusing on the ladies products.
COLETTA BIAS CUT SKIRT
Animal print is huge these past few months, so this leopard print is one to snap up and they've also stayed on trend by adding a little multicoloured neon into the mix too. I love this Coletta bias cut skirt. These skirts have been big over the summer and this pattern and long style make it a great transition piece for this time of year. It'll go with a long sleeve lightweight T-shirt and trainers or a woolly jumper and boots in winter.
MARINA PRINT DROPPED SHOULDER JERSEY TOP
I also love this double patterned marina print dropped shoulder jersey. It's such a gorgeous top with the stripe and leopard print pocket which is cool but then when you have an extra surprise of the leopard print that's continued onto the back. Its such a lovely update to a basic and I'm sure it'll gain many compliments. It's already gone to the top of my favourites list and I'll be racing you to get this one. Will you?
LEXINGTON LOAFERS
Bees have been centre stage these past few seasons which is great for me as I have soft spot for these important insects so when I saw this collection Joules gave me all the feels. I could wear all of these products in this collection and be quite happy but these beautiful black loafers with epic woven bee design really stood out. I want to just sit and stare at these all day but if you do decide to wear them you'll be dancing around in these every time as they'll take any outfit to another level. In love!
HEYFORD OVERSIZED SQUARE CHECK SCARF
Everyone loves to be cosy in the colder months, especially when out and about so a soft scarf is something that I'm always on the lookout for. The Heyford oversized square checked scarf is really something special if you like this size and style. The print is feminine with the injection of purple/ pink with yellow. The check makes it a timeless scarf that you'll go back to again and again.  It's especially great if you do a lot of travelling as it can double up as a blanket as well as a scarf. Bonus!
CHERINGTON QUILTED LONGLINE PADDED COAT
Staying on that cosy theme, Joules are well known for their coats and jackets. From waterproof raincoats to winter coats, they've got you covered. I love this Cherington quilted longline padded coat. It'll stay in fashion year after year with the stylish slimline silhouette. It's also super warm, especially with the faux fur trim. I know I'll be saving for this beauty!
Don't forget there is currently a fab end of season sale on at Joules, so if you've spotted something you love, go check it out.
Let me know your thoughts on the new season's pieces from Joules in the comments below or over on Twitter.
Happy shopping!