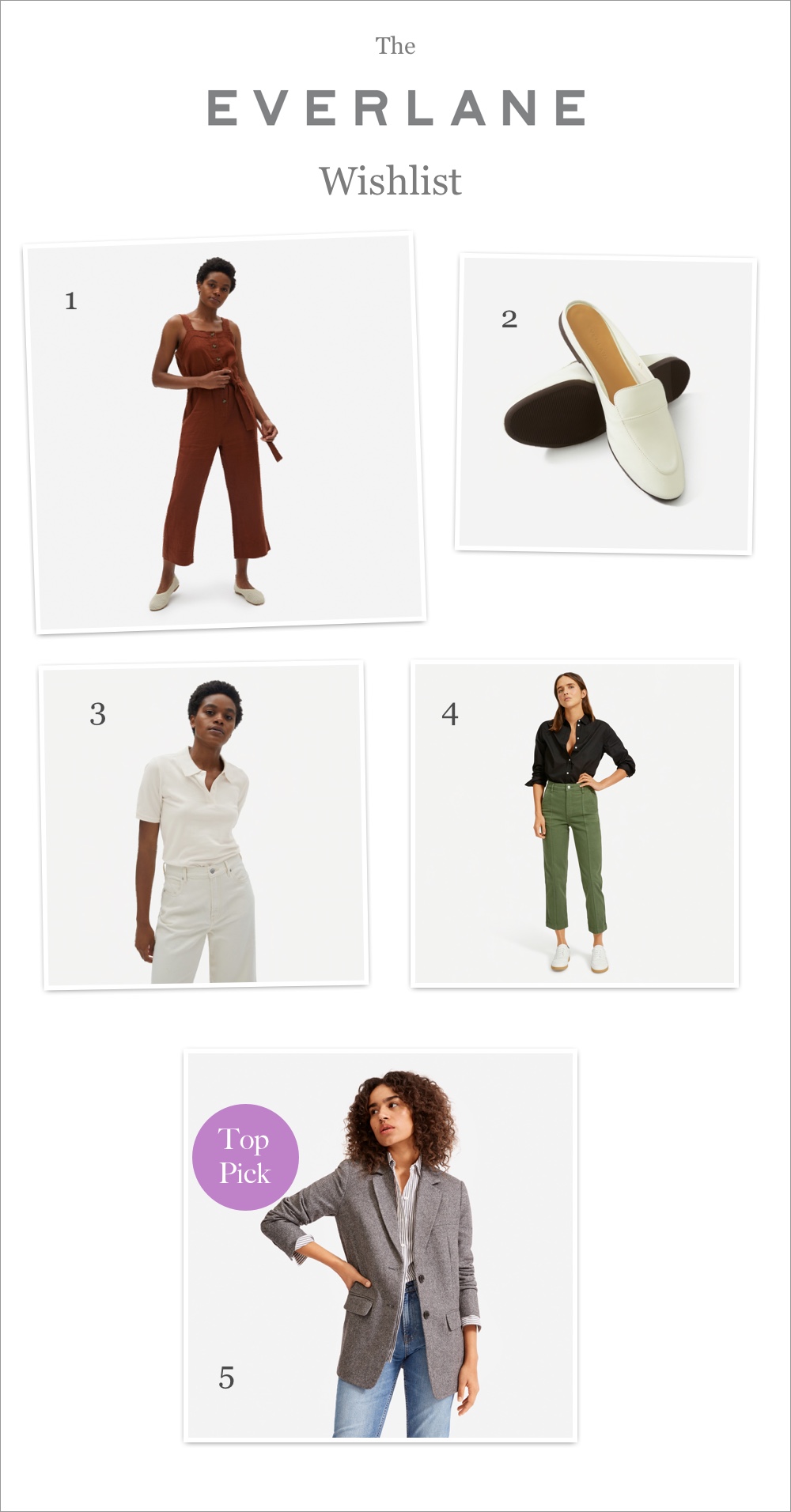 Everlane Wishlist
When it comes to clothing, recently I've found myself trying to be a little more smart with my buying. It's definitely trial and error but I've been directing my attention to smaller companies or brands that a little more transparency and sustainability. With this in mind I want to share a few products from Everlane. It's a company I hadn't heard of until recently but I'm really loving the look of the products on their site.  
They also have an interesting ethos of Radical Transparency. They say they partner with the most ethical factories that they can find around the world, and try and source some of the best materials available too. Along with this, on their site at the bottom of each product page, they feature the true cost which includes the break down of what their products are to make. This includes materials, hardware, labor, and the duties and transport to ship and source each product. Amazingly they also include their profit costing too so you get some idea of what they are making across the site. This opens the question for me as to whether this is the direction that fashion is going to go in now or whether it should be in the future? It's an interesting prospect. Maybe this subject lends itself to be more of an in depth post for another day as I'd love to delve into this a little more.  
Having seen some of the products on the site and how they look on a few Youtubers videos, it feels like the Everlane products are stylish, simplistic and super on trend. I'm looking forward to trying a few pieces from the brand so with this in mind I thought that I would pop together some of my favourite bits in a wish list.
The Linen Square-Necked Jumpsuit
A Jumpsuit, although overall can seem a little unpractical addition with toilet visits and the like, I feel a jumpsuit should at least make an appearance in a wardrobe. Gone are the days where a jumpsuit is set to be worn just around the house on those lazy days with the association of a utility overall at the core of the trend so this brown linen square-necked jumpsuit is perfect. It's super feminine, great for this time of the year with the cropped trouser legs and comes in several different colours. This jumpsuit can be also teamed with some lovely accessories to make it the perfect work event or maybe just something you want to be effortlessly smart in. 
The Day Loafer Mule
The Day Loafer Mule is a relaxed shoe – with the slip-on style that feels as comfy as a slipper, with the smarter loafer style at the front. It suits almost any outfit, from cropped jeans or trousers to a gorgeous maxi skirt or tea dress. These particular mules come in a few different colourways from red, caramel, black and cream. 
The Organic Pique Knit Polo
Soft cotton even in polo shirts are always something that draws me to a t-shirt. Along with seeming professional with the addition of the collar this Organic Pique Knit Polo is something that everyone needs in their wardrobe. It comes in loads of different colours and is perfect for those days when you want to seem like you haven't tried too hard. 
Women's Utility Straight Leg Pant
You can never have enough trousers in your wardrobe but at this time of the year it's good to have some options other than jeans. The cropped Utility straight leg pant is super nice for the warm weather. The front seem detailing is cute and makes them so versatile but also a little different. The cotton trousers have a hint of movement in the fabric with the elastane and are perfect with a staple long or short sleeve shirt or a t-shirt tucked in at the front with some plimsols. Alternatively they can also be teamed with a floral blouse, some sandals or maybe those slip-on mules from earlier.
The Oversized Blazer
I love a good blazer and I'm always on the lookout for something that I could wear in most seasons. This wool and nylon based oversized blazer would go perfectly with white shorts on a cooler Spring/Summer evening this time of the year, or maybe in the colder Autumn months team it with a jumper or hoody tucked under. The oversized style makes it feel perfect for an afternoon of business meetings but versatile enough to see you through for an evening out with friends. It also comes in three other colours, a plain black, a glen plaid (which is gorgeous!) and a chocolate houndstooth/windowpane design. Perfect!
Have you been trying and loving Everlane? Let me know in the comments below or over on Twitter. 
Happy Shopping!
*this is not a sponsored post.