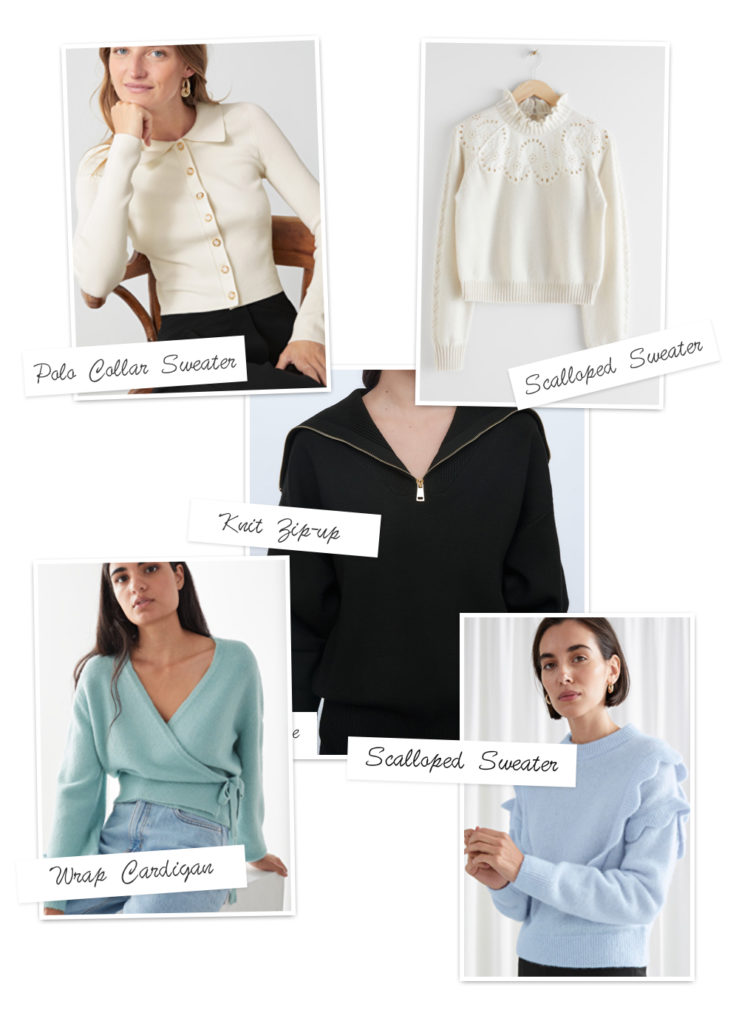 The weather has well and truly turned with 60 miles an hour winds have been a feature in my neck of the woods at the weekend. The cold Autumn temperatures have fully arrived and long sleeves and warmer layers have come out. The heating may also have been turned on and I'm looking forward to spending time in some beaut knitwear. There are lots of gorgeous pieces out in the shops and online that I've been loving so I've gathered some of my favourite feminine choices for the season.
First up is this grandad Polo Collar button-down sweater – this one is from &otherstories and the style of top and cardigan is big this season. It's a perfect transition piece for layering. You can team it with a high waisted pair of jeans, trousers or skirt and some heels to give the style more of a feminine feel. It's a lovely style and would work well for the office. I love the gold buttons on this particular sweater,  it's super pretty with a short skirt and a buckled bag giving it more of a 60's vibe.  This one comes in pink too which is worth checking out.
Broderie Anglais has been huge again this Summer so when I saw this gorgeous scalloped sweater from &otherstories it feels like the perfect transitional piece. The wool blend is super warm and the Broderie Anglais really adds femininity. It comes in both black and creme and it will beautiful with a pair of jeans and heels but also a midi pleated pleather skirt.
This black knit zip-up sweatshirt from Zara is super cool. A high neck with a zip fastening and long cuffed sleeves. It's a style of  jumper that has been seen and loved on catwalks and is all over the high street. Gym based companies are especially loving the slouchy style, which would look great at a yoga class. It's a jumper that goes really well with a straight leg trouser or simply leggings and a flat shoe.
The long-sleeved wrap cardigan is a classic style that is reminiscent of ballet dancers. The beautiful cardi will go perfectly with a soft floaty dress and heels for a super feminine look or for a more edgier look team it with mom jeans and flats. This one is another from &otherstories and has material that looks super soft and comes in several colours from turquoise to beige oatmeal and ballet pink. They're all beautiful choices and is a good one to layer up. I love them with some additional dainty necklaces too. Such a stylish look.
Finally, there's this really pretty alpaca wool blend sweater from &andotherstories. It has a light blue scalloped detail and it would be really lovely just simply styled with denim jeans or trousers. It could even be teamed with a high waisted skirt too. I love how feminine this jumper is but for a cool juxtaposition, I'd pair this with some heavy Doc Martins. Perfect!
Let me know your thoughts on what jumpers are your favourite from the selection here and how you style them. Do you have any of them or are you planning to buy one? Send me over your styling pictures and let me know your thoughts in the comments below or over on Twitter.
Happy Shopping!